"So Glad I Found This!!"
A "Mom on a Mission" created "JoJo's Burning Butt Balm" for her son who struggled with eczema: Imagine crabby, screaming toddler here...
Heading to the lab, she created a solution that was nowhere to be found in the store: simple ingredients, no alcohol, and no preservatives. The FIRST product that didn't make him scream.
Amazed at the results, she shared with friends and family. Word of mouth created more demand and Milkweed Balm was born.
AnyTime, our original, unscented Milkweed Balm soothes skin, helps fight pain, and restores mobility, a completely unexpected discovery.
Crafted with our unique milkweed seed oil which is full of anti-oxidants and packed with powerful Omega 3 and Omega 7 fatty acids, magnesium, zinc and calcium that promote joint and muscle recovery while nourishing the skin.
Try Risk Free with our "Love it or we refund your money!" Guarantee.
SHOP NOW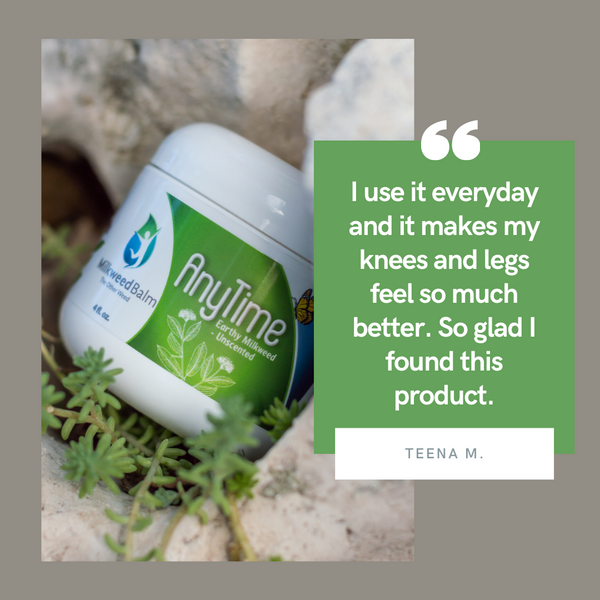 "I had chemo this week. Typically I feel as if I have the flu. Very painful all over. I applied the Milkweed Balm to the tops of my hands and the sides of my neck. It did ease the pain. Thanks so much for what you do."
- Amy, Sunnyvale, TX
More On cancer Pain